Every Tuesday there's a farmer's market within walking distance of our house. It's a nice walk and I love perusing the local goodies. I thought about making the Brave into a mini mobile vintage shop for the farmer's market, but when I looked into it it seemed like you could only sell handmade things, and I was already past the deadline for securing a spot. Maybe before the cutoff next year I'll look into it again. I think the Brave would make the cutest little vintage shop! Emphasis on "little."
I've been thinking a lot about goals lately. I'm an incredibly goal-oriented person. I have a very hard time just putting along without a carrot dangling in front of me to chase after. After graduating high school, college, and going on my Brave trip, I've struggled to find the next goal to set my sights on. Starting a family isn't really something I want to do just yet. I've thought a lot about starting a business, though I don't necessarily feel that it's the right time for that either. Sometimes it seems like some goals are just
too
big. Like I'd be biting off more than I could chew. But, at the same time, I feel like a goal
should
be scary. Everything I've done up to this point has felt well inside my abilities. If you don't stretch out of that comfort zone, though, you'll never discover the abilities you didn't know you had, right? So I think I might be ready to take a leap into the unknown, to bite off what may be more than I can chew. And thankfully I've got an incredible support system ready to catch me if I fall flat on my face.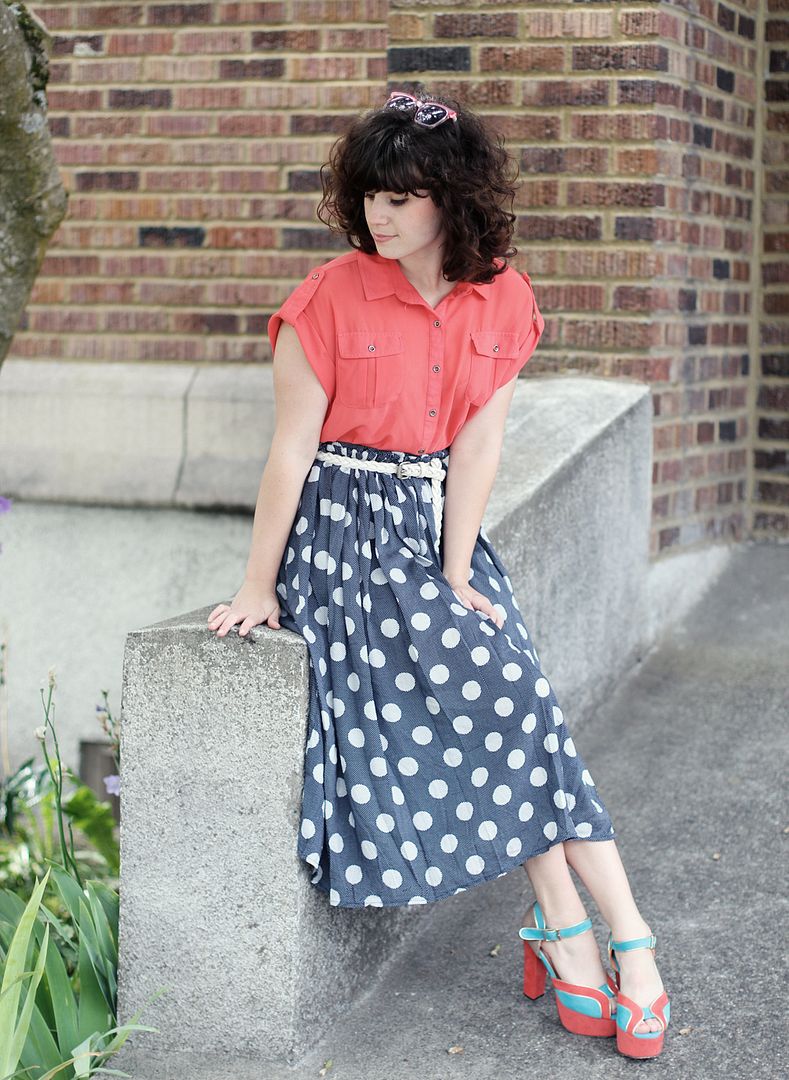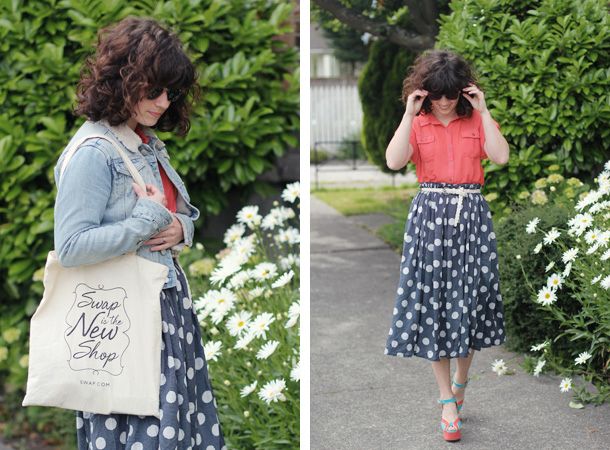 I've been searching for the perfect longer skirt to go with some of my summery crop tops. I don't necessarily want a full length maxi, but I do want something flowy and about knee-length. Resisting polka-dots has become incredibly difficult for me lately (16 year old me is like, "hold up, what??"), so this skirt seemed like the perfect piece for fulfilling that skirt desire. It's a bit longer than I really want, so I rolled the waist and belted it to make it a couple inches shorter. Ta-da! Better.
Julie beautifully styled
this same skirt a couple months ago. I love seeing how other bloggers style pieces that I own. So much more inspiration for different ways to style things!