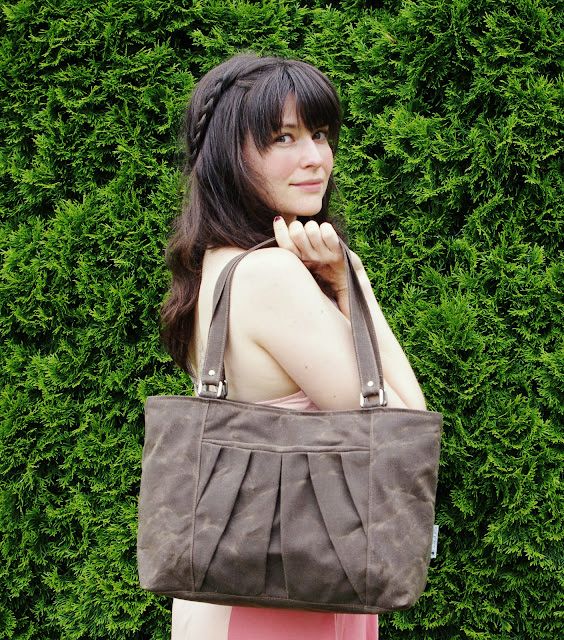 Last month's featured sponsor was
Nikolette bags
, a great company that produces high-quality, cute vegan bags, which are perfect for the out and about gal (and guy!) in the Northwest. I asked Courtney, the brains and brawn behind Nikolette, to answer a few questions about Nikolette, running your own small business, and producing your own products!
Delightfully Tacky: How did Nikolette start?
Nikolette Bags: Many years ago (2006ish) I was working as a decorator at a furniture store in New Orleans. We sold really nice custom sofas which meant we had a ton of upholstery swatches at the store. Every season the sofa reps would come through and trash all that beautiful fabric to make way for new ones. I intercepted the giant trash bags one summer and decided to make bags out of them on my little Singer. That lead to an Etsy shop which lead to craft shows which lead to
NikoletteBags.com
.
DT: You guys are located in Portland, how has the Northwest influenced your design?
NB: Nikolette started in Louisiana which is very wet, then we moved up to Portland which has about 9 months of wet so water resistant bags only seemed natural. The Northwest is so full of nature, bike trails and outdoor fun I knew I had to make bags that could take the beating of a long hike or a city bike ride in the rain. That's where waxed canvas came in. It is water resistant and as durable as leather without the weight.
DT: Your bags are all Vegan, what influenced this decision?
NB: In the beginning we used a little bit of leather because I had a pile of swatches, but its something that I never looked into after that box was emptied. Leather is an animal's hide and I think that's a terrible thing to waste! I hated to see all those leather pieces just go in the trash from the furniture store - that is the skin of a cow and of a sheep and lamb. It was a living creature. Canvas on the other hand is milled from cotton. Highly renewable and guilt free!
Canvas is also a more affordable fabric. We are trying to keep our bags at a very low rate for handmade goods, and canvas helps us keep that goal. Not to mention its lighter and requires less maintenance.
We decided to roll with keeping things vegan and now use no leather or suede for those people out there who live the vegan lifestyle (and those who don't as well!).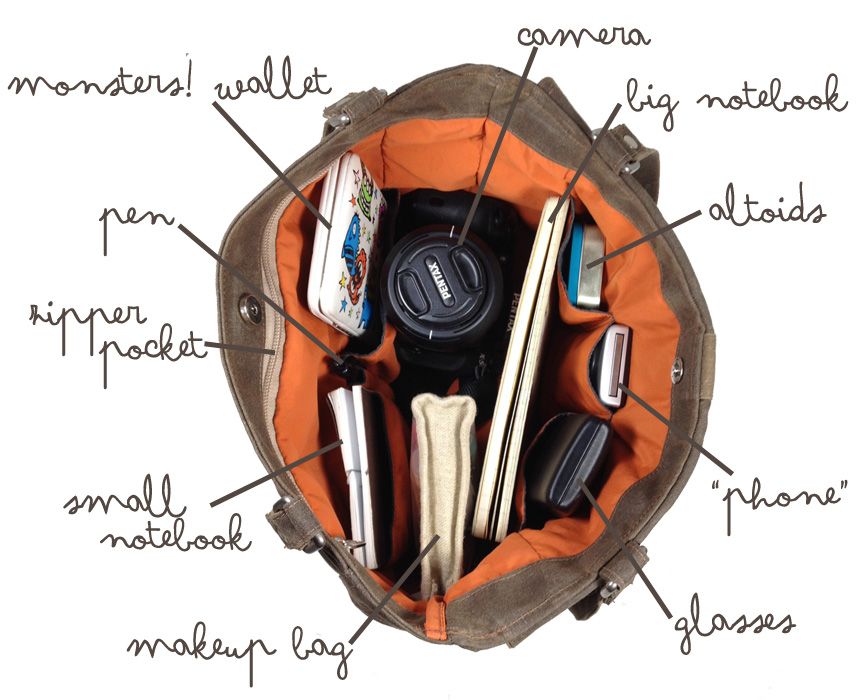 DT: What's your favorite part about being an independent designer?
NB: I have a very hands-on dad who just so happens to be an engineer. We were always making things in our house - binding our own picture books with cardboard and glue, or making a race car out of a box. My dad even built a playhouse in our back yard out of scrap wood! As a result my brain is constantly aflutter with projects. It was scattered for a while in my early 20s, but I learned to harness it and focus on bag "engineering". Its so nice to have an outlet for all that creative energy and to make something of substance. Plus, when I was "learning" I got to rip bags apart to see how they were put together. The puzzle of it is always a fun challenge.
DT: Do you have any suggestions for people who are thinking of starting their own clothing/accessory line?
NB: Start small. Put a small amount of money into some experimental pieces and open an Etsy shop or rent a booth at a local craft fair. Selling at art markets gives you that invaluable experience of seeing how people react to what you've made so you know what the big sellers could be and also where you can improve. Sometimes its nice to stay small, but if your craft is a hit you can roll with it!
If it all seems like too much you can still create and gift your items. My poor parents have so many experimental Frankenbags!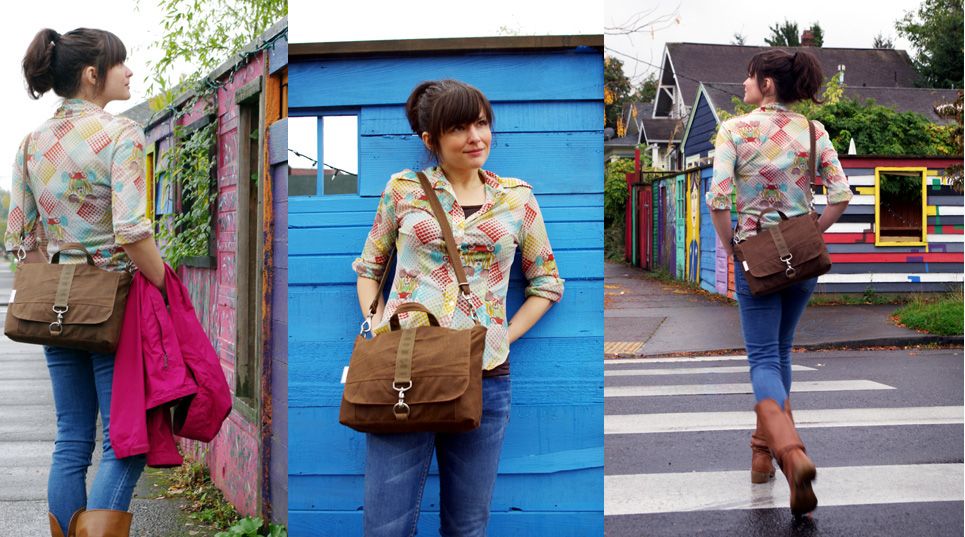 DT: What are some of your hopes/goals for the future of Nikolette?
NB: We're still a pretty small operation, a band of two! I like it that way though. If we do grow to the point where we need more people (which would be a good thing - right?!) I don't think I could ever hand over design and production to someone else. There's something so satisfying about taking a pile of fabric and turning it into something. (Not to mention my control issues!)
As we grow you may see new models on the website and have someone else's handwriting on your invoices, but it will always be me behind the helm of my mighty Juki sewing machine.
We do have a new line in production that is alot more girly and flirty but still waxed canvas and hearty. Getting into the "purse" business is a fun new direction for our future that I'm excited about. We also will be selling at Portland Saturday Market later this summer, if you're in the area come find us!
So, long story short, our goal is to grow while still maintaining that handmade quality... and quirkiness!