So, back when Dan & I went to his grampa's memorial service, we hung out with his family afterward and I got some coupon clipping lessons from his aunt who is a master couponer. She sent us home with a ton of stuff from her
zombie apocalypse storage
pantry which is full of stuff she got for basically zero dollars because of couponing. She gave us a bunch of sugary sweet cereal which we don't really eat for breakfast, but I was determined to figure out a way to make them into desserts instead. I remembered seeing Rice Crispy Treats made with Kix somewhere online and since we had a box of Reeses Puffs, which is basically the same, I thought I'd give that a go. It worked amazingly and was quickly scarfed down by Dan & our friends. So, I figured I could do the same thing with Cinnamon Toast Crunch and it too was delicious! I liked the Cinnamon Toast Crunch version better, but that's because I'm not a big peanut butter fan. I don't know why I never thought to make Rice Crispy Treats with other cereals. I don't really like Rice Crispy Treats that much, actually, but these other versions are proving to be pretty damn delicious.
What You'll Need:
5 tbs unsalted butter
4 cups mini marshmallows
OR
a 10 oz bag of regular size marshmallows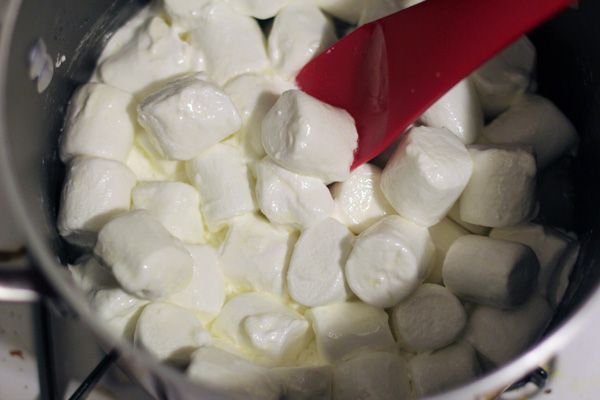 Melt the butter in a large saucepan over low heat. Add the marshmallows and stir everything together until all the marshmallows are melted. Once your marshmallows are melted down, add the cereal and stir until it's evenly coated. For different kinds of cereal you may need more or less cereal. For the Cinnamon Toast crunch I think I used around 6 or 7 cups.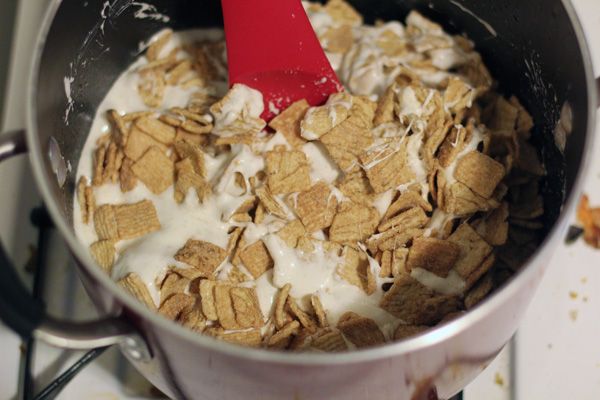 Get a 9 x 13 in. pan and grease it with cooking spray or some other substance to make sure the treats don't cement themselves in. Then, pour the mixture in and smooth it around until there's an even layer. Stick it in the fridge and cool it for a bit and then cut it up into ~2 x 2 squares. Try not to eat immediately. This is a great last minute dessert to make as it only takes about 30 minutes from start to finish! Have you guys ever made crispy treats with cereals other than rice crispies? Am I late to this amazing train?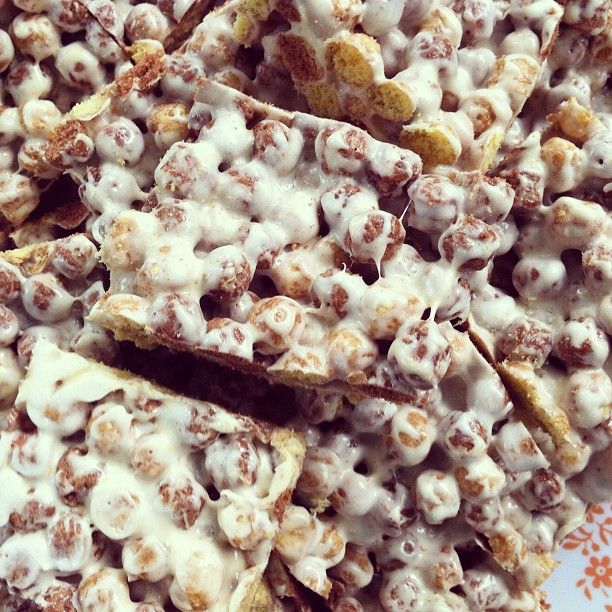 Here's an instagram photo of the Reeses Puff Crispy Treats because they didn't last long enough to get real-camera photos. They were delicious as well. Who knew the wonders of coating various sugary cereals with melted butter/marshmallows?