One of my favorite blogs to read is
Tom & Lorenzo
(originally Project Rungay). I started reading their blog back when my Mom & I would watch Project Runway together and their commentary was just too hilarious. They now blog about a ton of shows, including
Mad Men
and
The Walking Dead
,
fashion
, and
celeb style
and it's still one of my favorite blogs. They often criticize celebs for wearing matchy-matchy accessories on the red carpet, wishing those ladies would opt for more exciting shoe/clutch choices and as I was putting on this outfit, finding myself drawn towards a matchy shoe, Tom & Lorenzo popped up on my shoulders like two little fashion angels and told me to add a pop of a contrasting color instead. Who knows if this would actually be a TLo endorsed outfit, but I thought it was funny how they've made their way into my morning routine.
I just realized that I'm wearing the outfit version of a stoplight. Red, Yellow, and Green. For some reason this outfit feels more like color-blocking than print-mixing. I just love the way these three colors look together in this outfit.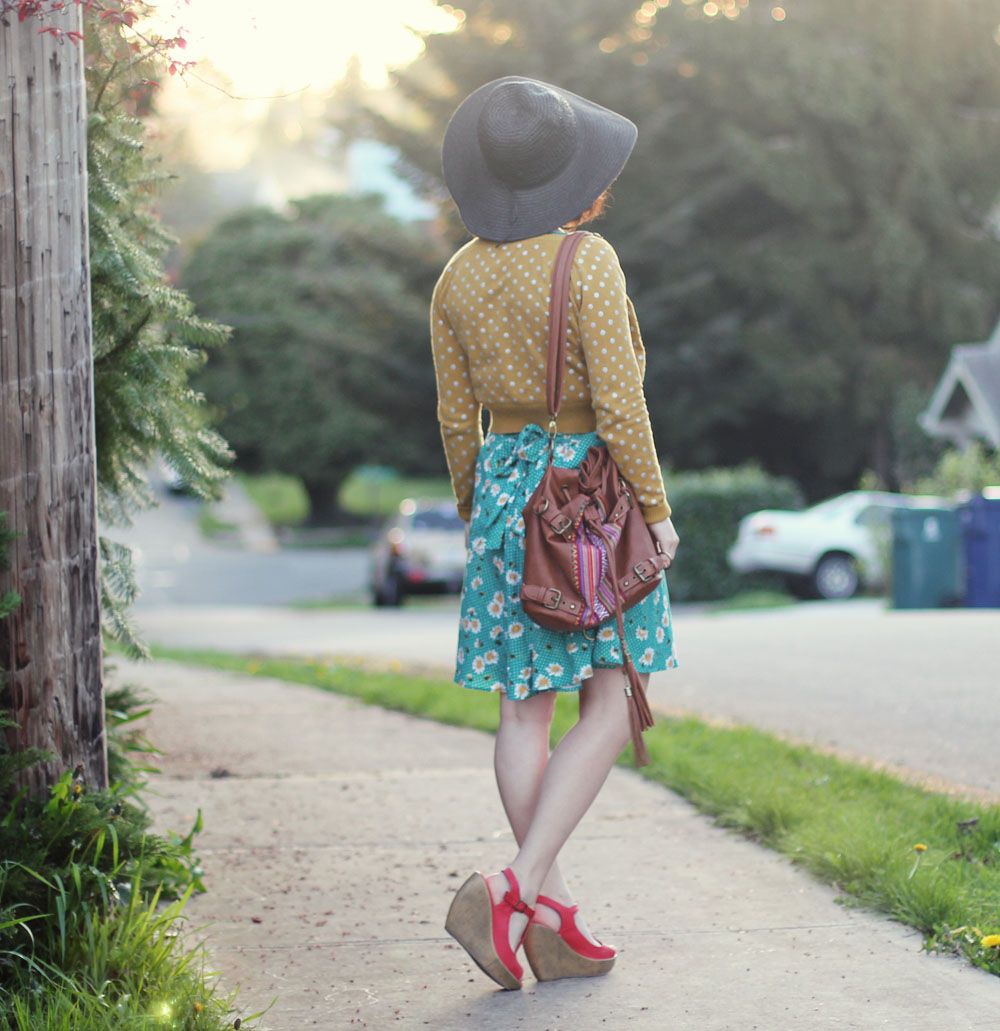 My new job has been going pretty well. I'm sorta getting in the groove. Yesterday I biked to work, which felt pretty great. It's a 15 minute ride, which isn't bad. It's so odd how as soon as summer hits, people in cars start being more and more rude to cyclists (or at least that's what I've experienced). Perhaps motorists just feel bad for us in the winter all bundled up, getting soaking wet and muddy. Or maybe they are yelling at us, but since their windows are rolled up we can't hear them. Tacoma's mostly a pretty bike friendly town, in that motorists usually give you room on the road and generally aren't mean, at least in the area I ride. May is Bike to Work month here in Tacoma, so hopefully that will see more cyclists on the road, getting cars used to seeing us.
I just read
this article
at Momentum Magazine about a woman's perspective on riding, which I thought was pretty good. I always enjoy seeing articles which encourage women to ride more, and which advocate riding in "normal clothes." While I definitely wear more bike-friendly outfits on days when I ride, those outfits are never out of my normal style– typically dresses and wedges or something of that ilk. There are few adjustments to be made here & there for an outfit to be bike-friendly, but overall I think it's totally do-able to wear your normal clothes when riding. It's a bit more difficult for women than men, as I know women are probably less enchanted with the prospect of being sweaty and winded at their destination. Thankfully my commute doesn't involve too much sweat (except for the killer hill right before I arrive at work, ugh).