I'm no makeup maven by any stretch of the imagination, my beauty routine is extremely quick and simple. I don't have a ton of makeup, but I thought I'd share the products I use on a regular basis. I keep all my make up in a little vintage train case, which is really nice, portable and has nice separate spaces for organizing stuff.
One product that I can't live without is my eyeliner. It's Motives'
Luxe Precision Eye Line
in Noir and it's the best eyeliner I've
ever
used. I've tried using similar products, including MAC's fluidline and their eyeliner pen (and revlon's verison of the eyeliner pen, which was like trying to paint my eyeliner on with a watercolor pen, blech), but nothing has come close to being as easy to apply and as long lasting as Motives' eyeliner. I do a cat-eye winged eyeliner every day, so I need something that gets the fine tip of the winged part. Eyeliner pencils can do it alright, but it's annoying to have to sharpen a pencil all the time, and I've found that they smudge pretty easily. The precision eye line pen doesn't smudge at all. I seriously want to stock up on it because I'm afraid they'll stop making it and I won't know what to do!
I only really use eyeliner on a daily basis, but if I'm getting fancier, I might do some eyeshadow and mascara. My eyeshadow palette is from Motives as well, though I bought the colors individually and I can't remember what the color names are. I always stick to more natural shades of brown in my eye shadows. That eyeshadow palette is actually the one I used for my wedding makeup! I also really like applying MAC's eye shadow in
Nylon
to the inside corners of my eyes to brighten them up.
I actually accidentally bought brown mascara instead of black, but I so rarely use mascara that I don't really care, haha! It's not pictured below, but if I'm doing my eyeshadow, I'll usually put on an eye base before applying my eyeshadow. I use Motives'
Eye Shadow Base
.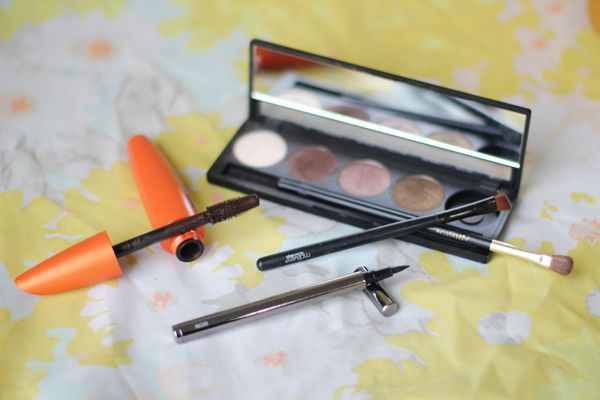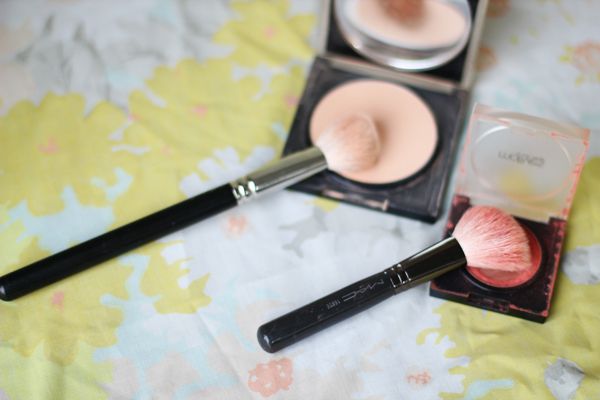 For my lips, usually I just go sans-color, but recently I've really liked using a lip liner that is the same shade as my natural lip color and using that to define the shape of my lips and even out their color. It's really simple and less high maintenance than lipstick, but still gives more of a polished look. Plus, I like that lip liner doesn't smudge! Right now I'm just using
Sonia Kashuk's Lip Definer in Sunrise
, which I got at Target.
When I want a bolder lip color, though, I use Motives' lipsticks. My favorite colors are Vamp, Scarlet, and
Go Red
(doesn't look like they sell the first two anymore). I never much liked lipstick and it always seemed to rub off easily and made my lips feel dry and weird, but then I stopped being a cheap-o who bought the cheapest lipstick available at the drug store and started using Motives' stuff, haha! I'm not a huge lipstick person, but I like this lipstick a lot.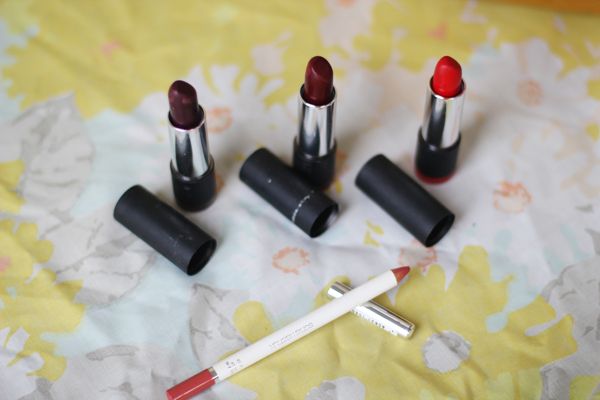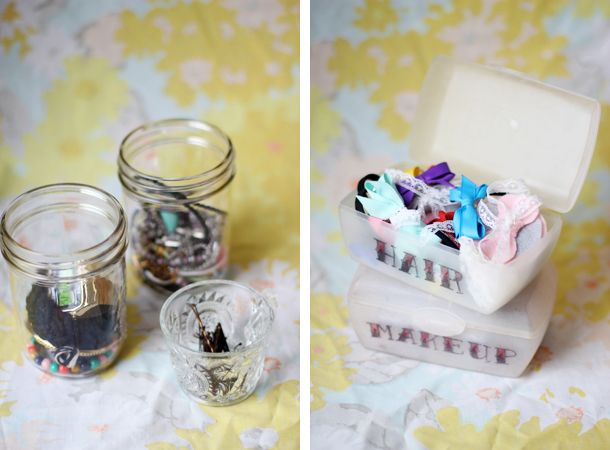 I don't wear jewelry everyday, so I don't have a super organized system for displaying it. I've started just putting it in jars based on type (necklaces, bracelets, bobby pins, etc). For makeup and stuff that doesn't get used as much on a daily basis, like false eyelashes, I use little labeled cases to keep those organized.
Makeup-wise, the only thing I'll wear pretty much every day is my eyeliner. Everything else is optional. Though usually I'll also do a bit of blush and powder as well. If you're wondering why I have so much Motives stuff, I used to sell it a couple years ago, so I got a bunch of stuff as samples to try the products out, but I really love it a lot, so I've continued using it. If you can't tell, I'm pretty passionate about the eyeliner, haha! But really, it's some quality stuff and I'd definitely recommend it. I no longer sell it, so this opinion has no ulterior motives (pfft. haha).