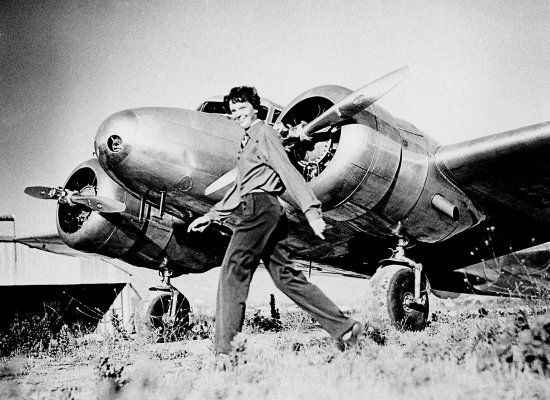 I wasn't going to post today, but I watched the film "Amelia" last night and was totally inspired. The film itself was pretty great (with the glaring exception of some dope casting Richard Gere. Ugh. Sorry to any Gere fans, but I really can't stand his so-called acting. Meh), and I adored Hilary Swank as Amelia. So I recommend watching it if you haven't yet.
But back to the
real
Amelia Earhart. This woman is probably one of my favorite women in history. I remember back in 8th grade we had to do a dress-up report on a historical figure and I was Amelia Earhart. I haven't done a lot of in depth studying of her life, but just what she did is so much a part of my spirit. I feel like if I was born back in the day, I would so be an Aviatrix like her. As much as I love modern times, I do wish sometimes that I was born in an era where you could sail unknown seas,
or be a settler in new territories,
or be the first to fly across the Atlantic. Nowadays it feels like there's nothing that we can do to really break boundaries, unless you're flying to space. But I don't really want to fly to space anyway.
In a way, I feel like I am a kindred spirit to Amelia. She didn't fly because she wanted to be famous or set records, she just loved flying. She loved the freedom of being in the sky, the horizon her only limit. I feel the same way on an open highway. It's a freedom that no one can take from you, a freedom that you hold in your heart. I won't be driving in the Brave to break any records. I'm pretty sure a 23 year old driving around the country isn't really anything groundbreaking. But still, I feel something profound when I think about what it means to be on the road. It's so much more than the travel itself. It's the feeling of uneven asphalt beneath my tires. The way the rubber reads the road like braille. It's the way the sun carves its way across the sky as you make your way east. It's the smell of gasoline and exhaust trapped in my hair.
The journey will be as much a spiritual one as a physical one.
I think there is an Amelia within us all and we just have to find it and let our passions run wild...