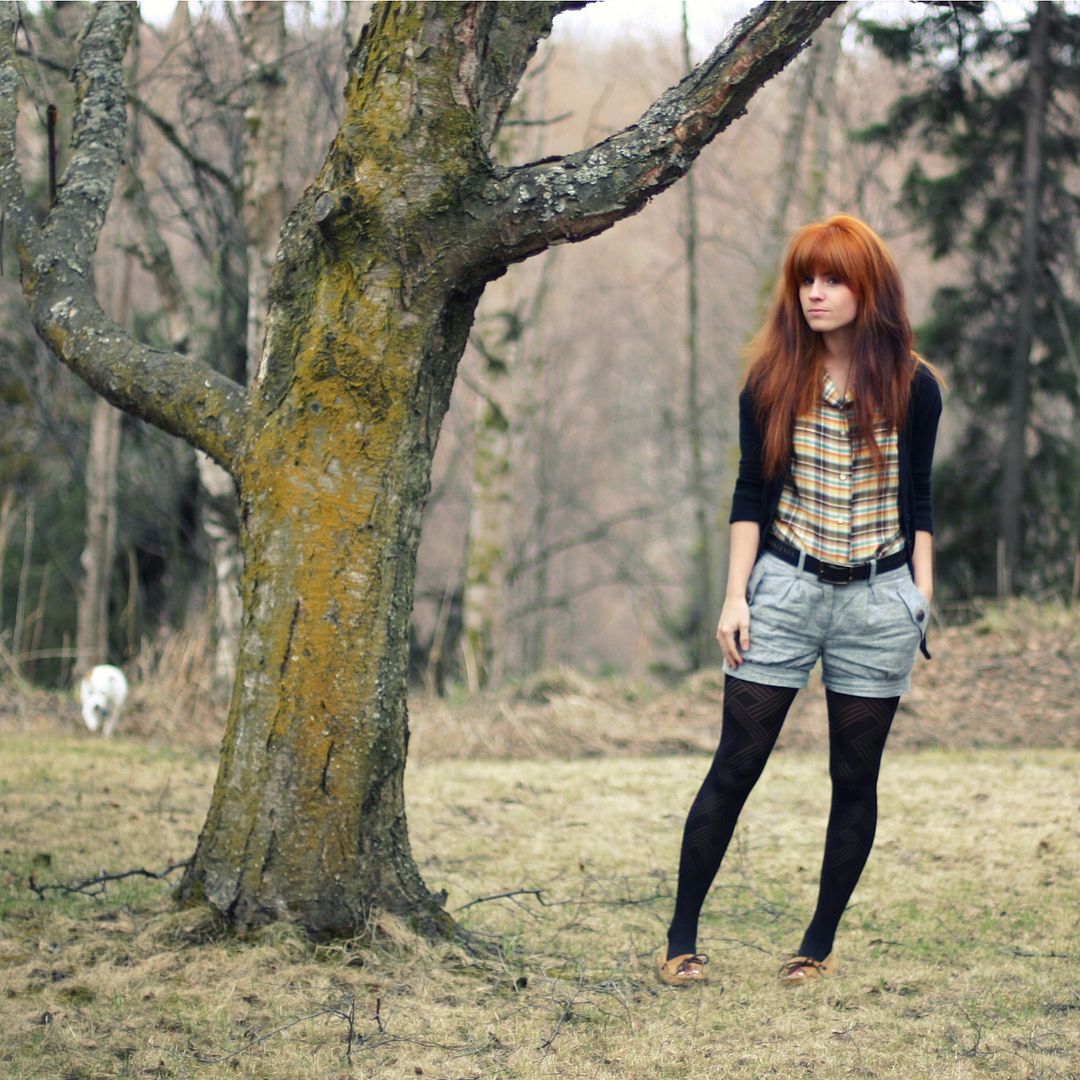 I got my roots touched up on Sunday (which is the last time I'm going to a salon for like... ever. I don't know how some girls have the money to go to the salon each month). So you guys can expect me to be a redhead for at probably one more month and then I'm doing something else to my hair, not sure what exactly yet, but it will be done by myself and

for no more than $8. Sorry, hair, I've got a Winnebago to buy.
But anyway, I had my styli
st straighten my hair since it's a pain to do it myself, which means I do it like once, maybe twice a year. Honestly, I do not like my hair straightened. It just looks weird to me. Other people have said they like it, but I just d
on't know how to "rock it" as they say. Give me big hair, or give me death!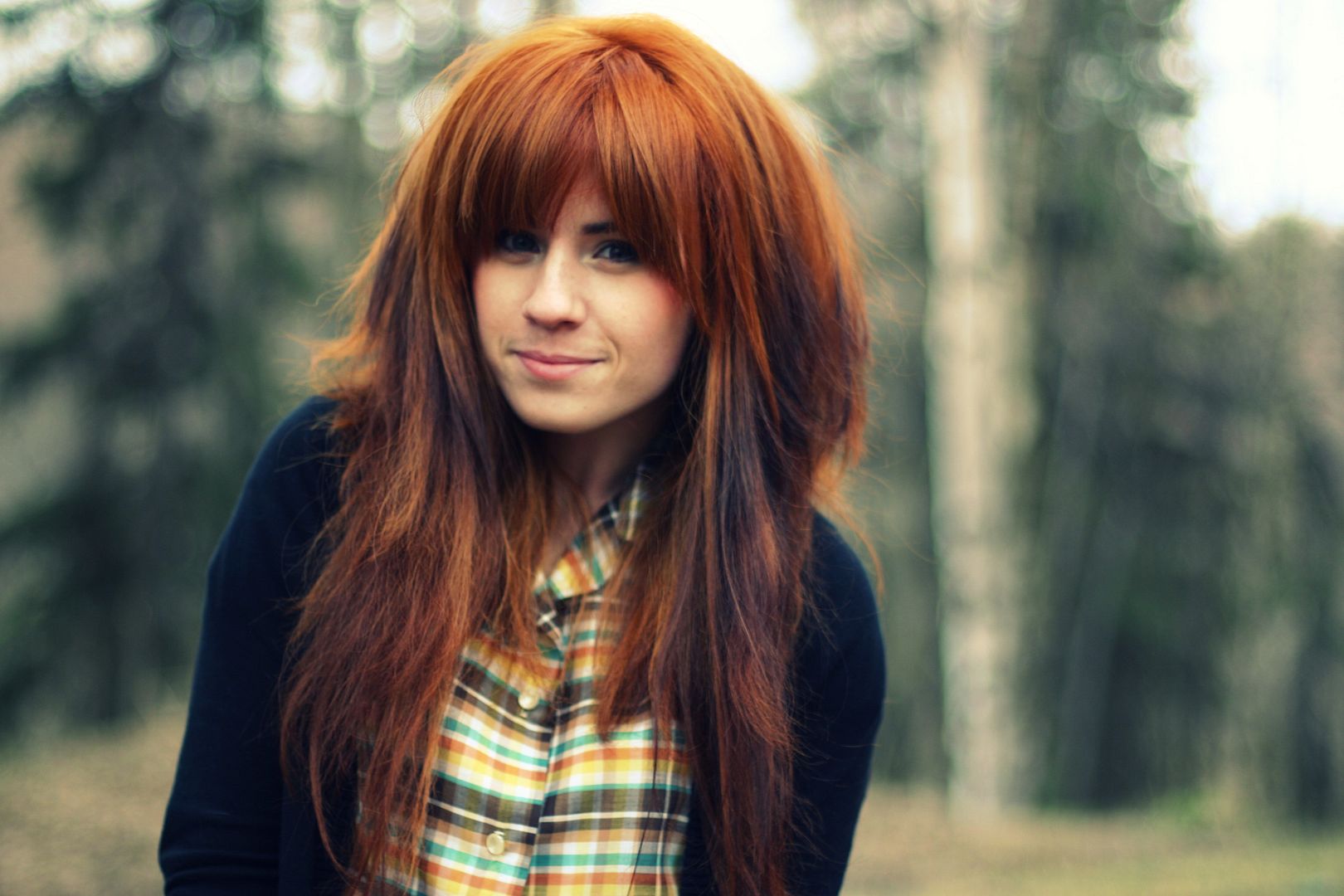 shirt/vintage :: cardigan/target :: shorts/forever 21
tights/courtesy of modcloth :: shoes/minnetonka
These tights have quickly become my new favorite pair. They're just so... substantial. Like, they feel really nice. Most of my tights are now falling apart because they are so well loved but these ones seem like they'll never fall apart! I had a near panic attack because I thought I ripped them climbing this tree, but no! Some how I actually scraped up my skin without the tights being damaged at all. I'm not sure how that works, but it's nice to have a pair of tights that doesn't get a run the second you put them on.
I've been wondering recently about how some people out there afford so many clothes. I see some bloggers wearing multiple designer items every day, shoes that are hundreds of dollars, and it just blows my mind. I mean, I can barely bring myself to spend over $20 at Value Village! This article by Ashe Mischief was really interesting and made me think about it more. Being in debt is something I never want. My parents live a lifestyle where they only buy things outright, no financing, no loans, no debt. Just saving up and then paying cash. I think that was a really positive influence on me. The issues brought up in the article are really frightening. I cannot even fathom maxing out credit card after credit card. Sure, I'd love to have some gorgeous designer pieces, but the debt I'd go into over it is simply not worth it. I hope you guys don't think you have to have hundreds (or thousands) of dollars a month allocated to purchasing new clothes just to have great style. Pretty much all my favorite bloggers are so down to earth and thrifty and I think that's why I love them. There are a few "high end" bloggers that I visit, but not as frequently. It just doesn't make sense to me. Honestly, even if I was wealthy I still don't think I'd have a closet packed with designer clothes. Maybe here and there, but there's something so rewarding about finding really inexpensive and unique clothes.
Anyway, I hope you guys never feel envious of my wardrobe or feel like you have to go out and buy new clothes all the time. Seriously, just walking into Nordstrom kind of gives me anxiety. I have always wanted a focus of this blog to be that you can have style without maxing out credit cards.
Case in point: Half my outfit today is exactly the same as the one yesterday, haha!
Oh! And super exciting news! I won the
Keds/Chictopia contest
! I really am so thrilled I can hardly contain myself. I wasn't sure I'd be able to afford going to NYC for next fashion week and now I can! Which means I get to see some of my most favorite blogger friends again (and hopefully meet more blogger friends!). I hope I'll get to go to more fashion shows. I got to see one in February and it was such an inspiring experience. I'd love to see more. Speaking of Keds... I want a pair of these in every color. Too cute!
And! (geez, this day is way too exciting) I'm featured over at Weardrobe today, which is super exciting too! I feel like God is giving me some major encouragement after being so bummed that I didn't get that Winnebago.
One more thing... Yes, I will finally be posting the winner of the KDikio Vintage scarf giveaway later tonight. I'm so behind on things! I always think I'll get it together on the weekends, and yet here I am! Oh well.