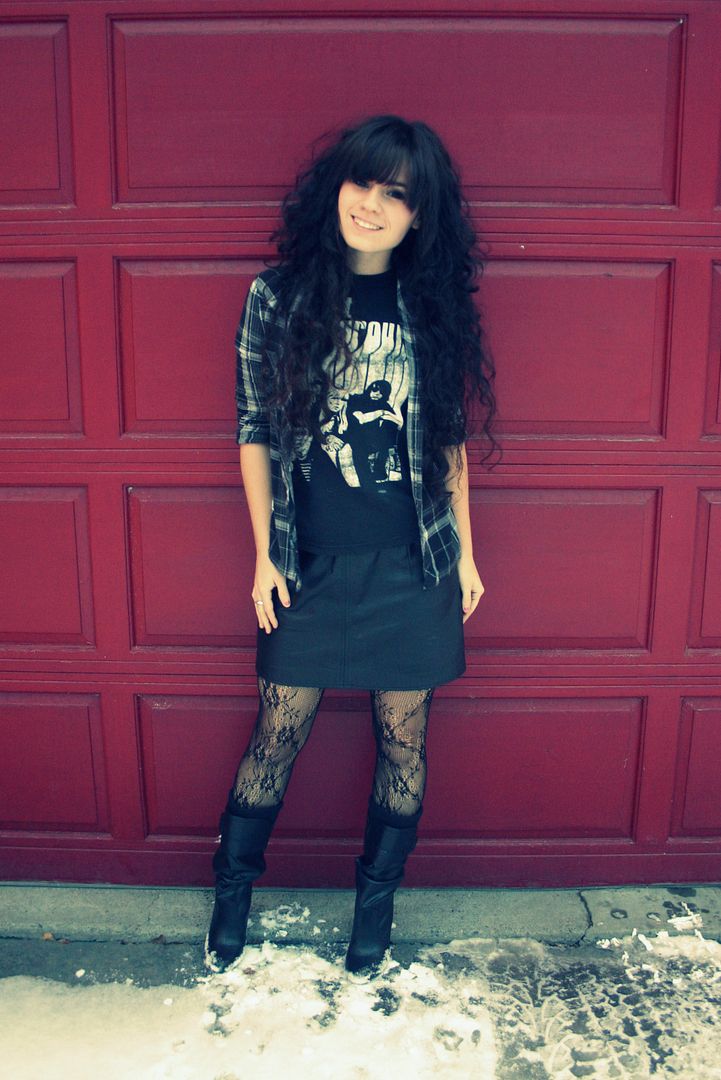 Kind of similar to yesterday, eh? I thought I'd take that look and make it even more casual. I've been feeling anti-color lately. I like the simplicity of black. As I'm sure you all know,
I have no qualms with wearing overloads of color
.
Today I miss my friends. I have zero friends in this town. Zero. I'm dead serious, too. Sometimes people say that for hyperbolic effect. The only people I know here beyond my family are coworkers. All I want to do is party all night and laugh constantly. Instead: bored and lonely. There aren't even any movies I want to go to. I thought about doing the whole Twilight thing, just because it looks like an entertaining movie, but I just don't feel like it tonight.

shirt/pac sun :: t-shirt/hot topic :: skirt/thrifted :: boots/lulu e bebe :: tights/fred meyer
I just learned that the Cold War Kids are coming to Anchorage in Feb. Damn! I will be gone by then. Way to go, Alaska. Bring a great band
after
I leave. I see how it is. Living in Alaska is definitely not for people who enjoy live music. There are some good local bands, but if you want to see a more popular band from the lower 48, you can pretty much forget it. I don't think I saw a non-local band's concert until I moved to WA. I remember my freshman year of college I went to a Yellowcard concert even though I didn't even like Yellowcard just because I'd never been to a concert before. I can't even believe I went to that concert because I pretty much loathe Yellowcard, haha! I still haven't gone to many concerts because I'm so damn frugal. It would be fun to go to Sasquatch or one of those big music festivals at the Gorge in central Wa, but I never ended up doing it.
I think my favorite concerts ever (not counting local bands/friends' bands) are Against Me! in Seattle and David Bazan in Spokane. We were going to see The Thermals in Spokane once but my friends took too long pre-funking and it sold out. I'm still totally bummed. I also missed Neil Diamond in Spokane once. And Van Halen! UGH! I really need to reevaluate what's important in my life, because those concerts should really be on the priority list.

David Bazan @ Empyrean in Spokane (I think I was sitting down in the front)
The first is my favorite song: