I had put on a colorful outfit today, but I'm feeling much too monochromatic for colors. I like how the plaid and stripes work together. It's been cloudy lately so the temperature has held at a relatively warm level. It's been raining for days though. And today it's been rather windy so nearly all the trees have lost their leaves. Anyway, I decided to take advantage of the quasi-warm weather and go sans-tights. I think I may like this outfit better with some black nylons though. I decided not to wear them because ever since I bought a pair last week I've been wearing them non-stop. But I figure I'd better let my skin soak up as much vitamin D as possible before epidermis hibernation becomes necessary.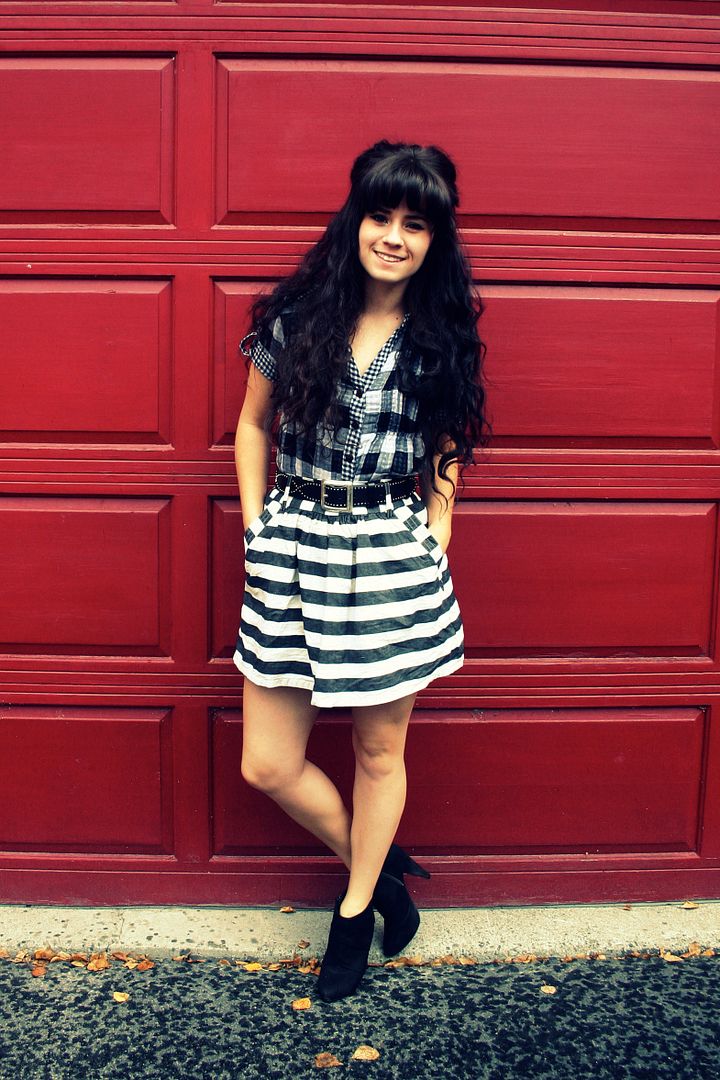 shirt/fred meyer : skirt/F21 : booties/payless
I got my PFD direct deposited into my bank account the other day which means (drumroll) I can pay off the rest of my credit debt! Yaaaaaay. I LOATHE being in debt. I don't care to whom of for what, I can't stand it. So this will be a landmark for me. Next milestone: getting my school loans paid off. That day will be a par-tay! I almost feel like having a party today, but it would probably just be me watching all the tv I missed this week (Glee and So You Think You Can Dance) with a big box of Nerds in front of me. Mmmmm. Maybe I'll buy some cheap champagne to make it seem more celebratory.
I haven't been taking photograph-photographs lately. I just realized that I miss taking pictures and editing them. I've gotten so used to just doing my daily outfit shots that I stopped doing any creative photography. I think I'm going to venture outside today and take some pictures...