Well, today's outfit only made it halfway through the day. It just felt... off. I'm sure it looked fine, but I didn't feel fine. An odd je ne sai quoi.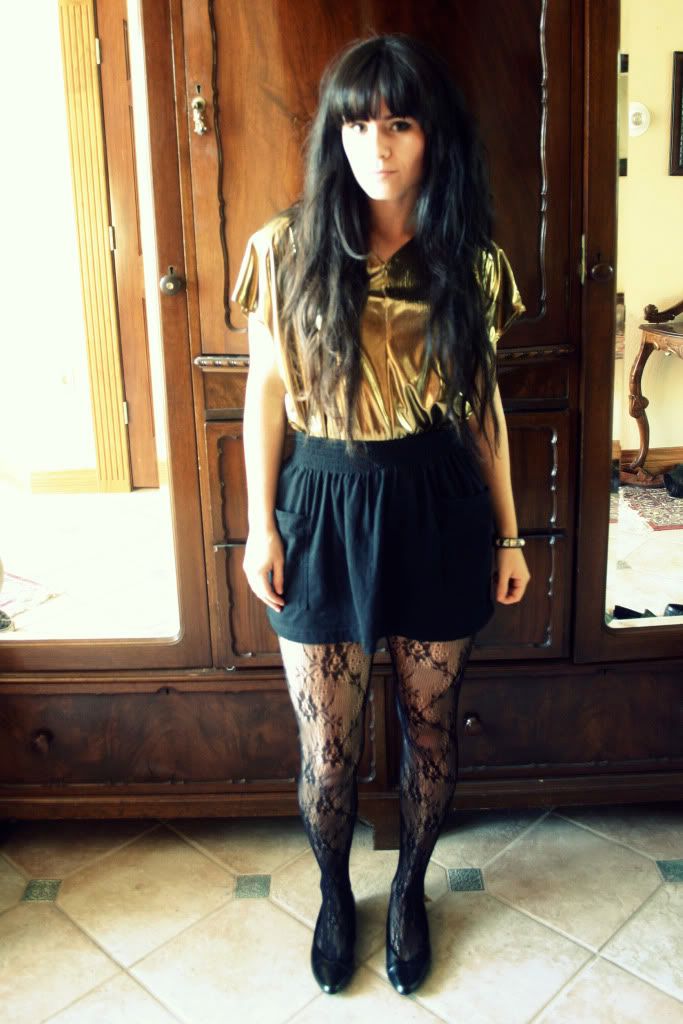 top/thrifted : skirt/F21 : tights/fred meyer : shoes/thrifted
Today started with me running around semi-frantically trying to get all my chores done. Then I ended up getting to my brother's high school a half hour early to pick him up, so I went in and visited my old art teacher, which was pretty funny. I was sitting there with all the kids and laughing on the inside because it's so hilarious seeing it from this vantage point.
Actually, my favorite part of visiting my old high school is breaking the dress code. I never broke it when I went to school and everyone who did was kind of slutty, so I think it's fun to break it and
not
look slutty. Plus, I can't get in trouble because I'm not a student! Whee! I think that this is the most juvenile amusement probably of all time.
Among my errands today was a stop to a local boutique to pick up a ticket to their fashion show next week. It will be my first fashion show! I am dreaming up my outfit for the occasion, and have purchased my "fashion show" shoes.
They make me so tall! I can't wait to take them on a maiden voyage. They make me feel like a grown up. Hah!
Eh, how bout some life instructions?
44. Show respect for teachers




45. Show respect for police officers and firefighters




46. Show respect for military personnel.




47. Don't waste time time learning the "tricks of the trade." Instead, learn the trade.